to
The
Cleeland Clan


Homepage



Bob (Stretch) & Eunice
Cleeland and our
wonderful furry Family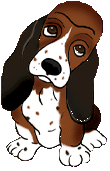 A cold, wet nose; soft, warm fur; a wagging tail;
a twinkle from big, brown eyes; a warm,
wet tongue & a smile that says, "I love you!"
It's your best friend, ready to waken you
gently or greet you in ecstasy when you come
home at the end of your day.
It's unconditional, faithful love & devotion
beyond anything you'll ever experience
with a human being. It's your local companion...
your dog. Please join us as we tell you a little
about our furry children & invite you to learn
more about the joys of loving & being loved by a
dog - & ways to help stop the nightmares
created by greedy humans who have
wrongful intentions toward innocent,
trusting animals.