Missy's Story


Written April, 1999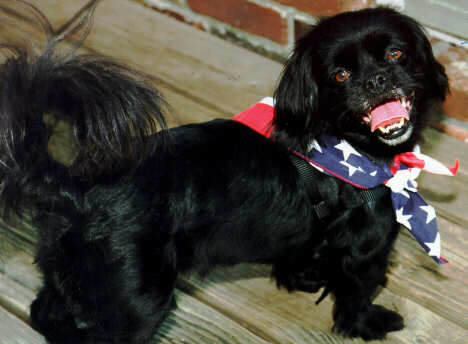 Hello!

I am a pretty little peke-a-poo and surely have my
paws full with all these boys!
I came to live in this home three years ago
when I was really, really sick. I had lived with an
older couple who meant well but often didn't remember
to feed me or bring me in from the cold. I lived in a tiny little
pen and was so lonesome & sick, sometimes I wished
I would die. I was seven years old when I came to live
with this family, and I didn't know how to act in a house with people.
Mom very patiently started teaching me manners
(even though she fussed a lot because I was so stubborn!)
and gave me wicked bad medicine.
They brushed my shiny black fur a lot and tied
pretty little bandanas around my neck.
There was a dog named Sparky in the house,
but he didn't like me and wouldn't play with me.
There were two big, pretty dogs - Chows,
they were called, named Sinny and Chooch,
in the back yard, but they were too big to play with and
sort of scared me! I really loved Mom & the Big Guy,
but I surely did want someone to play with.
Then came along this little red long-haired
dachshund puppy named Bob. He was just going to
visit for a few weeks while his dad went out of
the country, and my mom was going to housebreak him
like she was teaching me. Well, this little puppy loved
to play! We would roll & tumble and chew each other's
ears, feet, & tails! We slept together and really, really
loved each other! I was so scared he was going
to leave me soon, and I didn't know what I would do!
But his dad came back home and saw how happy
we were, and said that little Bob should just stay here.
Oh, happy day for me! We often wear matching
bandanas & collars, and I am so proud to be his girlfriend!
Now I have another boyfriend, little Bee-Bo, who came to live
with us just a few months ago. The dog Spark,
who didn't like me, ran away and my mom just cried &
cried for weeks but she kept looking for him.
Well, she found Bee-Bo instead. He's only about a year old
and by now, I'm ten, but we play really hard, and I can
show him that little girls are just as strong as little boys!
So you see, I've really got it made! How many
girls have two handsome boyfriends?
Well, I guess it's my turn to live the good life
because I've really got it made here.